What you'll do
*Rated 5 Stars by teams & individuals from Twitter, Starbucks, Instagram, Airbnb, Cisco Systems, LinkedIn, and many more.

Meet a pile of the world's most adorable giant pandas at Chengdu Panda Base in a virtual live experience. (not pre-recorded video) More than 150 pandas live in here. Admire the pandas and go in-depth during the award-winning guided tours.

This experience will start with me talking about my background and my personal journey and passion for pandas. I will then lead the guests to see the culture difference of the oversea born pandas and the local pandas. Some returned pandas need to learn Chinese to "talk" to the keepers.

We will visit the new built enclosures to find their enrichment and toys. Then we will have a close look of their paws to learn the pseudo-thumb.

Through show and tell, I will introduce a brown panda and a gray panda.(little gray) She's still in the park. The pandas could be hidden in the trees, behind the bush, in the cave. Let's work together and find them.

Planning a unique and different corporate TEAMBUILDING off-site?
Do you need a specific date and it is not listed?
Please send us a message to accommodate your request.

This experience is available from 5pm to 3am PDT (Los Angeles time)
We also offer one with a pre-recorded video to see pandas.
Meet your host, Alvin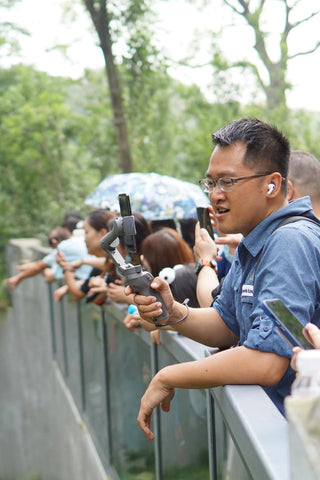 Hello from Chengdu-home of giant pandas! We are group of tour guides who share the passion for the love of pandas. Recognized internationally through press and TripAdvisor "Traveler's Choice" in 2019 and 2020. We loves to share our inside stories and connections to the pandas. Our guests really appreciate that unique approach rather than listening to textbook information. Some great stories are inspired by our online community. We've been hosting Facebook live experience to see pandas for over 6 years. Recently, we just threw a birthday party on live streaming for the American-born panda, Tai Shan.
*Add us to your Wishlist :)
*Check more reviews about our in-persons panda tours
Make your reservation here.